Lara Nila offre des consultations en ayurveda et astrologie védique, non remboursées par ASCA ou autres organismes.

– Consultation ayurvédique:
ayant pour but d'établir un bilan de santé, étudier les doshas (vata-pitta-kapha) et les possibles déséquilibres dans ces humeurs, de définir une nutrition adaptée à sa propre constitution, de proposer des traitements à base de plantes ayurvédiques, massage, conseils en hygiène vitale, yoga thérapie…
La consultation ayurvédique coûte 120 chf et dure 1h15mn, sur Martigny ou Genève. Possibilité de se déplacer à domicile (honoraires déplacements en plus)
– Consultation en astrologie indienne:
voir la page Jyotish (vedic astrology) pour plus de renseignements sur l'astrologie indienne et les différents domaines abordés pendant la consultation.
Généralement, la charte astrologique est effectuée lors d'une consultation ayurvédique afin d'affiner le diagnostique et choisir les remèdes appropriés.
La lecture générale du thème astral coûte 108 chf (108 euros) et est rédigée et envoyée en pdf par email. Possibilité d'avoir un échange sur skype pour des précisions.
Pour tous renseignements, envoyer un mail à nilayogini@yahoo.com ou me joindre au 0774217019 (+41)

 Lara Nila offers consultations in ayurveda and Vedic astrology in Geneva, not refund by ASCA or other organizations. Online consultations available.

– Ayurvedic consultation:
with the aim of establishing a health check, studying doshas (vata-pitta-kapha) and possible imbalances in these moods, defining nutrition adapted to its own constitution, proposing treatments based on Ayurvedic plants, massage, advice on vital hygiene …
The Ayurvedic consultation costs 120 chf and lasts 1h15mn, in Martigny or Geneva. Possibility to do it at home (additional travel fees)
– Consultation in Indian astrology:
confer to Jyotish (vedic astrology) for more information on Indian astrology and the various areas covered during the consultation.
Generally, the astrological charter is carried out during an Ayurvedic consultation in order to refine the diagnosis and choose the appropriate remedies.
The general reading of the horoscope costs 108 chf (108 euros) and is written and sent in pdf by email. Possibility to have an exchange on skype for clarifications.
For more information, email to nilayogini@yahoo.com or call 0774217019 (+41)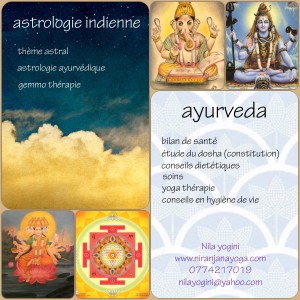 Lara Nila a vécue en Inde durant 8 ans et enseigne le yoga depuis une dizaine d'années, formée dans diverses institutions en Inde et certifiée E-RYT 500 (experimented yoga teacher) par yoga alliance. Elle a suivie également une formation en ayurveda ainsi qu'en astrologie indienne auprès du docteur David Frawley (American institute of vedic studies, Santa Fe) et continue son apprentissage par des stages et cours réguliers auprès d'écoles certifiées en Inde.
Lara Nila has lived in India for 8 years and has been teaching yoga for the past ten years, trained in various institutions in India and certified E-RYT 500 (experimented yoga teacher) by yoga alliance. She also trained in ayurveda and Indian astrology with Dr. David Frawley (American institute of vedic studies, Santa Fe) and continues her apprenticeship through regular internships and courses with certified schools in India.