L'astrologie indienne (encore appelée astrologie védique, astrologie hindoue ou Jyotish (du sanskrit ज्योतिस् Jyotis, lumière ou étoile) est un système astrologique issu des Vedas. Bien que la structure générale de ce système soit similaire à celui que l'on trouve en Occident, cette astrologie étant fondée sur l'Ayanamsha (décalage dû à la précession des équinoxes), tous les signes du zodiaque, par exemple, sont donc décalés. Elle fait partie des Védangas: les six arts et sciences auxiliaires de l'hindouisme, liés aux Védas. Le travail de l'astrologue du Jyotish repose sur l'idée que l'être humain est connecté à l'univers. Chaque symbole, signe, planète, maison, est un karaka, soit un « significateur » d'un domaine de vie. Il renseignerait sur les facilités ou difficultés « prévues » pour la personne dans chaque domaine de vie, par le plan de vie constitué par le thème astral.
Jyotish est un terme hindi provenant du sanskrit jyotisha  qui se traduit par « lumière », « corps céleste ». Le Jyotish serait donc « la science des corps célestes »
Les calculs sont fondés sur les multiples du « cycle primordial » de trois ( voir les 3 Gunas) qui donne naissance aux 9 grahas (planètes), aux 12 bhavas (maisons) et aux 27 nakshatras (constellations lunaires). À partir de leurs positions respectives au moment de la naissance, le développement séquentiel des tendances de la vie d'un individu (ou même de toute autre entité, comme une entreprise) peuvent être calculé.
Lors de la consultation, l'étude de la charte astrologique peut être orientée suivant plusieurs domaines:
–spirituel avec l'étude du karma, sens de la vie, type de yoga et divinité associées à la personne…
–thérapeutique en faisant intervenir l'astrologie ayurvédique: détermination du/ des dosha(s), faiblesse de certains organes et fonctions physiologiques en determinant les planètes faibles et en tenant compte des dashas (périodes de vie)
–compatibilité relationnelle pour le marriage, association professionnelle etc…. études des différentes chartes pour établir un bilan de compatibilité
–muhurta: choix de date auspicieuse pour un évenement précis (mariage, ouverture d'un business, voyage…)
–prashna: question précise, la réponse serait faite en fonction de la date à laquelle la question a été posée à l'astrologue
Etant professeure de yoga et thérapeute en ayurveda, Nila est spécialisée plus particulièrement dans l'astrologie ayurvédique; l'étude de la charte est souvent réalisée lors d'une consultation ayurvédique. Elle peut ainsi affiner son diagnostique et l'étude des planètes l'aide à choisir le traitement qu'il soit à partir de plantes, yantras (formes géométriques), mantras ou gemmothérapie.
Prix d'une consultation astrologique: 108 chf (108 euros)
Possibilité sur Genève, via skype ou pdf

Paiement par virement bancaire si consultation à distance
Pour effectuer une consultation, envoyer la date, lieu et heure précise de naissance à nilayogini@yahoo.com ou renseignements à la même adresse mail.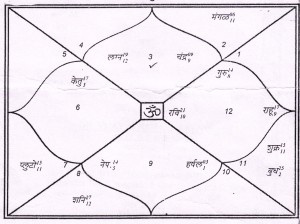 Indian astrology (also called Vedic astrology, Hindu astrology or Jyotish (from Sanskrit ज्योतिस् Jyotis, light or star) is an astrological system derived from the Vedas. Although the general structure of this system is similar to that found in the West, this astrology being based on Ayanamsha (shift due to the precession of equinoxes), all signs of the zodiac, for example, are therefore staggered. It is part of the Vedangas: the six auxiliary arts and sciences of Hinduism, linked to the Vedas. The work of the Jyotish astrologer is based on the idea that human beings are connected to the universe. Each symbol, sign, planet, house, is a karaka, or a « signifier » of a field of life. It would provide information on the « planned » facilities or difficulties for the person in each area of life, through the life plan constituted by the astral theme.
Jyotish is a Hindi term from Sanskrit jyotisha that translates as « light, » « heavenly body. » Jyotish would therefore be « the science of celestial bodies »
The calculations are based on multiples of the « primary cycle » of three (see 3 Gunas) that gives birth to the 9 grahas (planets), the 12 bhavas (houses) and the 27 nakshatras (moon constellations). From their respective positions at the time of birth, the sequential development of life trends of an individual (or even any other entity, such as a business) can be calculated.
During the consultation, the study of the astrological charter can be guided according to several areas:
–spiritual with the study of karma, sense of life, type of yoga and divinity associated with the person…
–therapeutic by involving Ayurvedic astrology: determination of the dosha(s), weakness of certain organs and physiological functions determining weak planets and taking into account dashas (periods of life)
–relational compatibility for marriage, professional association etc…. studies of the various charters to establish a compatibility assessment
–muhurta: auspicious date choice for a specific event (marriage, opening a business, travel…)
–prashna: precise question, the answer would be made according to the date on which the question was asked to the astrologer
As a yoga teacher and ayurveda therapist, Nila specializes in Ayurvedic astrology; the study of the charter is often carried out during an Ayurvedic consultation. She can thus refine her diagnosis and the study of the planets helps her to choose the treatment whether it is from plants, yantras (geometric shapes), mantras or gems.
Price of a consultation: 108 chf (108 euros)
Opportunity in Geneva or via skype
(Payment by bank transfer in case of skype consultation)
To consult, send the date, place and specific time of birth to nilayogini@yahoo.com
Be free to send e-mail to the same address for further questions.
 Nila yogini a vécue en Inde durant 8 années. Elle est une astrologue védique certifié par American university of vedic studies du Docteur David Frawley et a également suivi de nombreux cours avec le célèbre astrologue Roeland De Looff (dirah academy). Elle est également professeure de yoga certifiée depuis 10 ans (E-RYT 500) et consultante ayurvédique.
Nila yogini has lived in India for 8 years. She is a certified vedic astrologer by the American institute of vedic studies of Doctor David Frawley and has also followed extensive courses with the famous astrologer Roeland De Looff  (dirah academy). She is also a certified yoga teacher from the past 10 years (E-RYT 500) and a recognised ayurvedic consultant.